Fashion design contest Richmart Vintage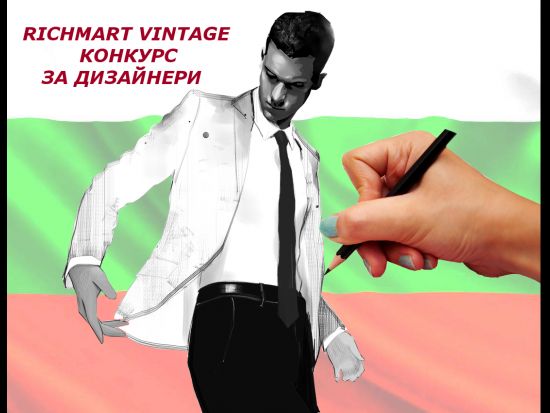 1. Purpose:
To promote Bulgarian folk motifs, because this is our national treasure.
2. What to Present?
In their models designers should interpret BULGARIAN FOLK MOTIFS AND SYMBOLS.
3. Categories of clothing:
• Men's suits, jackets and coats;
• womens jackets and coats;
• Children and teenagers jackets and suits.
4. Who can join?
• Designers students;
• independent designers;
•fashion companies;
• Bulgarians living in Bulgaria and abroad as well as foreigners who use Bulgarian motifs and symbols in their models.
5. Prize:
Total prize money for the competition: 5000 levs
All participants will receive advertising of our media partners.
6. Copyright:
Richmart Ltd respects and prices copyright of each artist. Each designer retains copyright over their own model. Richmart Ltd has no right to reproduce, manufacture or use the proposed models as their own without the consent of their authors.
7.Cooperation:
For those who wish, Richmart Ltd offers assistance for the production of models, of course, it will be on factory prices.
Why should you take part in the International Richmart Vintage Fashion design contest ?
to start your own business or develop an existing one

to design a men's suits collection which if approved will be made for free and presented at trade fairs around the world

to make your name/brand more popular

to make men worldwide more fashionable and stimulate them to wear suits made of natural fabrics

to learn more about the menswear made-to-measure business

All participants receive a training how to create their OWN men's suits brand. The training is completely FREE of charge. It takes place at Richmart factory in Ruse, Bulgaria, Eastern Europe. It does not bound you in any way with the organizers. The two-day training includes:
1. Measuring (how to take measures for custom garments including jackets and pants)
2. Fitting & Alterations (how to recognize and correct problems with finished garments, proper marking techniques)
3. Fabric Knowledge - You will see samples of over 1000 different fabrics. You will learn how to help clients select the right fabric for the right occasion.
4. Business Knowledge (how to start a successful menswear business)
During the training you can decide if you want to create your men's suits collection, which will be produced free of charge by Richmart factory and will wear your brand name. The collection will be advertised at trade fairs and exhibitions, as well as in online media and printed magazines. You will get a percentage from the sales of all your models, created for the project.

Men`s suits factory 5 days production practice

During the making of the models in the factory you will get the chance to follow the entire process of production of your models.

photo session of your collection

PR campaign for the designer and his collection in the media partners of the project

inclusion of the collection in e-shop platform of MFC

designers will receive a percentage of sales of the models included in the e-shop

participation of the collection in an international fair of joint booth

MFC (Men's Fashion Cluster) participates in 10 international fairs in the spring and autumn:
- Berlin, Germany;
- Salzburg, Austria;
- Copenhagen, Denmark;
- Amsterdam, The Netherlands;
- New York, USA;
- Las Vegas, USA;
- Moscow, Russia;
- Poznan, Poland;
- Paris, France;
- Dusseldorf, Germany.
A percentage of sales of the collection.When garments from the collection of the designer are sold, he will receive percentage of their sales

PR campaign for the participation of the collection at the exhibition - it will be published in the Internet medias, partners of the project
EXPENSES:
1. NO DESIGNER EXPENSES FOR:
entering the project

sewing of the collections

participation in the production experience

training and introduction in the business plan (МТМ atelier)

including the collections in the online web site

including the collection in a monthly magazine

participation of collections in an international trade fairs

representing the designer in a book (one annual edition)
2. DESIGNER EXPENSES
You have to pay for your transport & accommodation, only if you would like to attend the following activities:
visiting of mills (Italy, Great Britain)

visiting of a suit producer (Bulgaria)

attending an Annual Contest (Black Sea, Bulgaria)

personal designer attendance of the inernational trade fairs and individual presentation of the collection (Germany, Austria, Denmark, The Netherlands, USA, Poland, France, Russia)

attending the photo sessions

other trips on your request
3. OTHER EXPENSES
If you would like to take the tailored collections for your own business purposes or if you like us to sew other collections for you, the organizer will submit an opportunity to acquire them on production costs.
How to participate? Send a request to participate on Facebook page RICHMART LTD https://www.facebook.com/pages/Richmart-Ltd/521257198002059 or email: adelina.ivanova@richmart.eu. Your message must contain three names, age, location, school / company, telephone and email contact. Deadline: February 28
Phone: 00359 88 23 77 898
Добавено на: 11 March 2015|16:24:33
Добавил: Redaktor
Категория: NEWS, News about the contest
Етикети: contest, video, folklore dances, folklore, fashion, suits, richmart, richmart vintage, designer, purpose, clothing, bulgarian folk motifs
Коментари (0)

Добави коментар